R.A. Long sophomore Ashley Hall skims her finger across a page of notes and studies intently. She's on a mission.
Her partner, R.A. Long sophomore Jaykish Patel, is on the other side of the classroom wall, in another room, but has left behind hand-written directions for the competition.
Laid out in front of Ashley is a pile of what looks like pieces from an elementary school craft project: a foam ball, rubber band, sewing pin, beads and pipe cleaners.
Her task is much more complicated, however, than a craft project. In 25 minutes, Ashley has to use what she has in front of her to build what Jaykish saw in the room next door using only his written directions. She gets points for each part of the model she builds correctly. The project, Ashley says, teaches teamwork.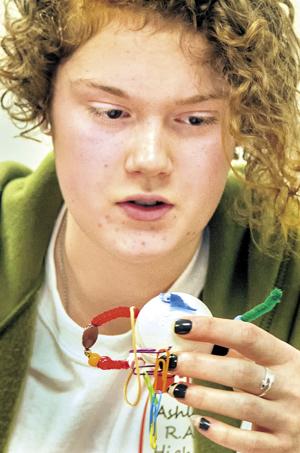 Roger Werth / The Daily News
Buy Now
R.A. Long sophomore Ashley Hall builds a craft from directions written by her teammate, fellow sophomore Jaykish Patel.
"This is practice for the next experiment," she said of her next competition, Experiment Designs, which will test her and Jaykish's knowledge of how to set up scientific experiments. "If one person fails, we both fail."
Ashley and Jaykish are members of R.A. Long's 10-person Science Olympiad Club that competed with 36 other Southwest Washington teams in the regional Science Olympiad at Lower Columbia College on Saturday. Organizers say the tournament is one of the most complex science, math and technology student events in the state. It's part of the national Science Olympiad program, which has been operating since the 1980s. Highline College in the Puget Sound area will host the state tournament this April.
Each of the event's 400 students competes in an average of four events during the tournament. Several events were organized by LCC staff, and they test students on college-level knowledge and skills in subjects from cell biology to aerodynamics.
Besides R.A. Long, Toledo high and middle schools were the only other Cowlitz County teams to participate Saturday. Most were from Clark County.
Toledo High School sophomores Bradley Debo and Taylor Leback finished their plywood and cellophane plane around 10 p.m. Friday. Toledo High School Principal Martin Huffman turned off the fans in the gym Friday night and let the students test out the plane.
Bradley wasn't too thrilled to start the project with a broken arm two months ago and memories of last year's competition, which didn't go well.
"We did the glider (competition) last year and couldn't get it to fly," he says.
But seeing the final product turned things around, he said. He felt relieved when the small, lightweight plane finally took air at the competition Saturday.
Win or lose, the tournament is about one thing, he said: having fun.
Before Ashley sees Jaykish's directions and starts on her project, she explains her own love of science. Like history, she said, science is essential to understanding how life works.
"I found a biology textbook in a thrift store," she said about the moment she fell in love with science. "I read it, and it turned on a light."
Toledo High School science teacher and Science Olympiad adviser Jennifer Berry said bringing her four team members to Saturday's event was especially important coming from a small school district.
"The small teams have to be flexible (about what events they try), but that's what's so great," she said. "This gives them the opportunity to explore the sciences they wouldn't be able to explore."
Contact Daily News reporter Lauren Kronebusch at 360-577-2532 or lkronebusch@tdn.com.